Daycare owner charged with leaving child in van | News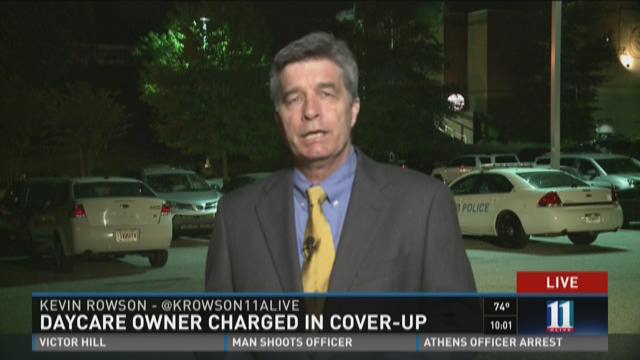 COBB COUNTY, Ga. -- A Cobb County daycare owner faces several charges after reportedly leaving a little girl in a transport van for hours.
Dr. Melinda Hamilton operates Bright Achievers Pre-K Center in the 2700 block of Jefferson Street in Austell. She is charged with reckless conduct, false statements and tampering with evidence.
The victim, 2-year-old Zaryaha, was left in the daycare center's van for about five and a half hours on May 5, according to police. A driver hired to pick up children from local schools and bring them to Bright Achievers found Zaryaha in a rear seat. According to a Cobb County police warrant, the driver said the girl was "sweaty" and her clothes were "moist."
Hamilton met the driver and child at a Mableton Publix. The warrant says Hamilton did not call 911 or seek medical treatment for Zaryaha, and told the girl's mother the child was only in the van for 15 minutes. Zaryaha's mother Quantina Russell took her daughter to the hospital the next day after another daycare employee reported she was acting sluggish and was unusually thirsty.
Russell told 11Alive News Hamilton never called her to tell her what happened to her daughter.
"I feel like I should have gotten a call right after it happened," Russell said. "They tried to lie and cover it up. I could have lost my child."
The warrant states Hamilton directed her administrative assistant, Dulce Lopez, to provide a false document of the incident to a DFCS caseworker assigned to investigate the daycare center.
Investigators say Hamilton is not only facing charges for the child being left in the hot van, but for an elaborate plan they said she came up with to cover it up. They said Hamilton told Lopez to erase surveillance video of the school grounds taken on the day the child was left in the van. When Lopez refused to delete the footage, according to investigators, Hamilton called a technician to remove the camera's electronic storage device from the daycare center.
Hamilton also allegedly coerced staffers, telling them not to tell anyone what had happened, and to lie to parents and police.
"She attempted to persuade employees to come up with this convoluted, false story in reference to this incident so that it appeared the child was left alone for only 15 minutes," said Cobb County Police Officer Alicia Chilton
Police said the owner forced at least one worker to give false written and verbal statements to investigators.
"And I feel llike there should be more arrests too because she wasn't the only one who played that role, it was also other people," Russell said.
A background check into the daycare center finds previous violations, including having unsafe playground equipment and a lack of paperwork regarding criminal background checks on employees.
PHOTOS | More mug shots