Confederate flag vandalized in Austell | News
AUSTELL, Ga. – An Austell family is upset after their Confederate flag was destroyed in the middle of the night.
Margaret Ray said the flag was mounted in their yard next to the American flag. When the family woke up, it had been shredded and was hanging by a thread.
Ray said she's a proud American and the flag represents her great-grandfather's contribution to freedom.
"We lost a lot of soldiers over that flag, and I should have the right to fly my flag," Ray said.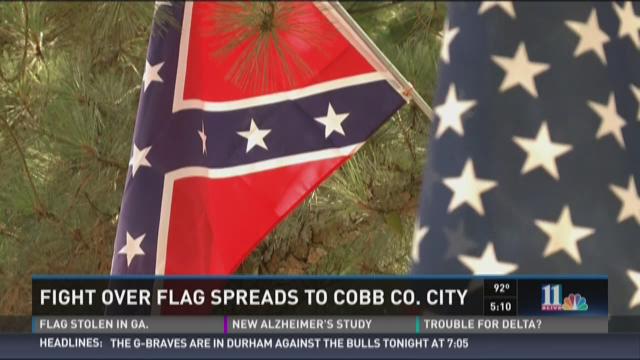 Ray said that the flag wasn't easy to reach, which meant the vandals had to be on her property for several minutes. It happened just feet away from where Ray and her husband sleep.
"It's scary, I mean you don't ever know, if they will come out here on my property and tear up my flag, what else are they going to do," Ray said.
Now she says her grandson Dylan isn't allowed to roam freely on their land.
"He won't never be able to walk in the front yard by himself, grandma's has got to be with him," Ray said.
Ray said she wants those responsible to be prosecuted.
"When I find out who did it, they will go to jail," Ray.
A neighbor, who was also upset by what happened, donated another Confederate flag to the family. It was mounted higher than the previous flag and flying over the property by Friday afternoon.
RELATED | South Carolina takes down Confederate flag