Six Flags to debut 2 new kids' areas in 2016 | News
AUSTELL, Ga. -- Two new kids' areas featuring 12 rides will open to Six Flags Over Georgia guests next season.
The world's first DC Super Friends attraction will be built on the site of the defunct Dolphin Show.
Visitors can conquer one of the world's greatest supervillains on the Joker Funhouse Coaster, learn to control their own invisible jets at Wonder Woman Flight School, dodge devious stares in the Harley Quinn Mirror Maze and save Gotham City by flying high in the Batcopters. The bravest souls of all will be invited to tackle the Superman Tower of Power, a 65-foot bouncing thrill ride.
Six Flags Over Georgia's current children's area will be remodeled into Bugs Bunny Boomtown, which will feature seven new attractions:
* Acme Trucking Company, where visitors drive monster trucks to help Wile E. Coyote catch the Road Runner
* Bugs Bunny High Sea Adventure, a flying ride
* Daffy Duck's Bucket Blasters, a family water battle
* Looney Tunes Adventure Camp, an interactive playground
* Speedy Gonzales Speed Boats, featuring six very fast boats
* Tweety's Tweehouse, a 20-foot climb to Tweety's nest
* Yosemite Sam's Wacky Wagons, a junior Ferris wheel
Bugs Bunny Boomtown will open in time for Six Flags Over Georgia's 2016 season. The DC Super Friends area will open Memorial Day weekend.
Not to be outdone, Six Flags White Water in Marietta will also unveil a new ride next year. Wahoo Racer, a six-story multi-tiered racing water slide, will stand 60 feet tall along Interstate 75. Riders will reach speeds of up to 40 feet per second.
Six Flags White Water's 2016 season will begin in mid-May.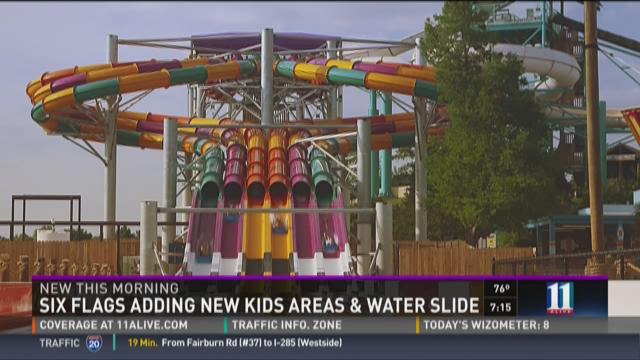 TAKE A RIDE | Six Flags' 10 fastest coasters